Quotation of 12 Tons of Heavy Oil Boilers Per Hour in South America
2021-10-25 08:46:03
Dear ZBG, Hope all it is going well with you. We are looking for the following Quote for South America: Heavy oil Boiler, Capacity: 12 ton. These is the description of water steam output parameters need to achieve: 30barA, saturation(234C), 12t/h.
Note: we will use heavy oil come from Pet plastics gasification. product we will use without refining. Please let us know the heavy oil aprox. consumption per hour in boiler with capacity we have request.
Recommended models of 12-ton heavy oil boilers: WNS12-1.25-Y, WNS12-1.0-Y, WNS12-1.6-Y, SZS12-1.25-Y, SZS12-2.5-Y, SZS12-1.6-Y.
China SZS 12-ton fuel heavy oil boiler project
Project address: Hebi, Henan
Purchase equipment: SZS 12-ton oil & gas-fired steam boiler
Application field: tire factory
The SZS fuel oil & gas steam boiler purchased by a tire factory from ZBG factory this time is used in its tire processing production line. Like Huanyan's production of low-noise, low-fuel consumption green tires, ZBG's oil and gas furnace series products are mainly low-nitrogen and environmentally friendly, with an operating efficiency of up to 95%, which can fully meet its future larger production scale.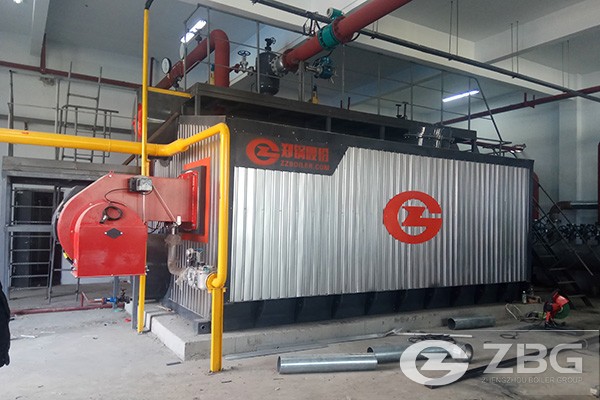 SZS fuel oil & gas steam boiler
Factors affecting the quotation of a 12-ton oil fired steam boiler:
1. The brand choice of boiler main body and auxiliary equipment, the price of different brands varies greatly;
2. The choice of boiler material, the price of different materials is different;
3. Furnace types with different structures have different prices. There are three types of 2-ton gas-fired steam boilers: WNS type and SZS type boiler. The price of choosing different types is also different.
4. Due to the different design, quality, and material selection of various manufacturers, the selected burners will also be very different, and the price of the 12-ton gas-fired steam boiler is also different.