Calculation of Gas Required For a Steam Boiler
2016-11-08 16:23:03
How many gas will it consume in a steam boiler? Well, it is a good question. Mostly it will depend on which kind of gas you use. Take natural gas boiler as an example, we will see how to calculate the 1 ton gas boiler fuel consumption.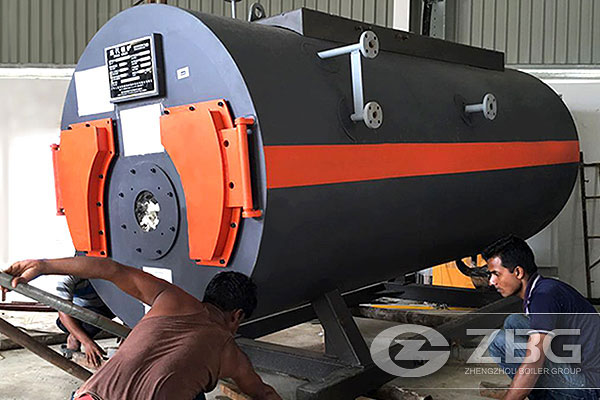 1 ton gas fired steam boiler in textile factory of Bangladesh
1. Fuel heat value: natural gas 8800KCal/m3
2. 1 ton boiler needs heat 600000KCal/h (1KCal = 4.187Kj=4.187KW
3. 0.7mw=700KW=700*3600Kj=700*3600/4.187KCal=601863KCal≈600000KCal)
4. Gas boiler thermal efficiency: 92%
So we can calculate the gas consumption per hour = 600000/8800/0.92=74m3
With 71- years rich experience, ZBG can offer different types of quality boilers for clients to meet their production need and solve the problems occured no matter in pre-planning, manufacturing, installation, operation or after sale period. If you have any question, please leave us and we are happy to provide help! ZBG is able to manufacture standard or custom gas fired boilers, oil fired boiler, coal fired boiler, biomass fired boilers to perform these tasks to ASME code or non-code, depending on the requirements in your area or system. ZBG engineers can match equipment to just about any application you may encounter today.
Get An Instant Quotation
For all inquiries, please fill in the form below (* are required) to send us a brief message, and we will get back to you as soon as possible.