Boilers for CHP / Combined Heat and Power Plant
2016-08-26 09:56:23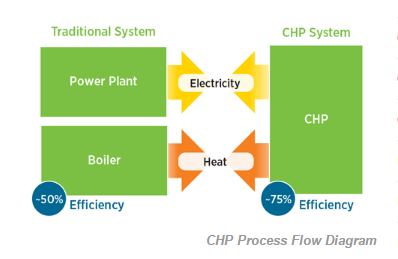 Combined heat and power (CHP) systems, also known as cogeneration, generate electricity and useful thermal energy in a single, integrated system. CHP is not a technology, but an approach to applying technologies. Heat that is normally wasted in conventional power generation is recovered as useful energy, which avoids the losses that would otherwise be incurred from separate generation of heat and power. While the conventional method of producing usable heat and power separately has a typical combined efficiency of 50 percent, CHP systems can operate at levels at least 75 percent, even high up to 90 percent.
Boiler products used in Co-generation/CHP
Benefits of CHP Plants
The high efficiency of a CHP plant compared with conventional bought in electricity and site-produced heat provides a number of benefits including
Improve the efficiency of the plant.
Reduce air emissions of particulate matter, nitrous oxides, sulphur dioxide, mercury and carbon dioxide which would otherwise leads to greenhouse effect.
Reduces cost of production and improve productivity.
Save water consumption and water costs.
More economical as compared to conventional power plant.
Applications for cogeneration/CHP boiler
The best applications for cogeneration systems are in facilities that have consistent electrical and thermal needs, including: hospitals, colleges, schools, recreational facilities, government buildings, large residential facilities, industrial facilities, hotels, mining industry, steel & iron industry, paper plant, chemical industry, etc.
Get An Instant Quotation
For all inquiries, please fill in the form below (* are required) to send us a brief message, and we will get back to you as soon as possible.