LPG Boiler or Natural Gas Boiler
2018-02-23 14:11:30
About LPG boiler and natural gas boiler, first, let's know what is LPG and natural gas.
Natural gas is created over hundreds of years deep within the earth. It has to be extracted (pumped to the surface) and cleaned to remove impurities including water to be marketable. The byproducts of natural gas processing are ethane, propane, butane, pentane and higher molecular weight hydrocarbons.
LPG(Liquefied Petroleum) Gas is manufactured during the refining of petroleum (crude oil), or extracted from petroleum or natural gas streams as they emerge from the ground.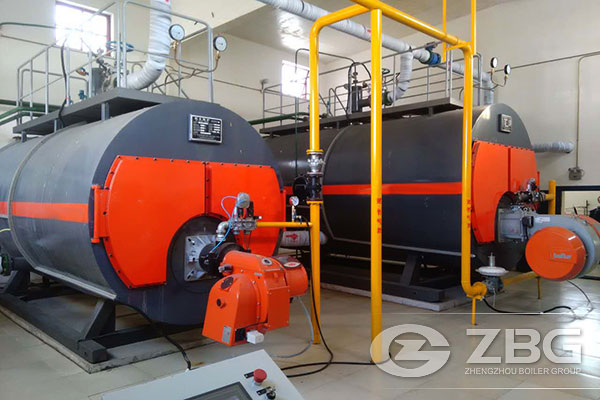 What are the Key Differences Between LPG vs Natural Gas?
LPG (propane) and Natural Gas (methane) are both used in essentially the same way but they are also different in many ways.
1.LPG (propane) and natural gas (methane) have different chemical formulas: Methane is CH4. Propane is C3H8.
2.LPG has a higher calorific value - energy content - than natural gas, with 93.2MJ/m3 vs 38.7MJ/m3.
3. For proper combustion, LPG requires an air to gas ratio of approximately 25:1 whilst natural gas requires a 10:1 ratio.
4.LPG (propane) is more dense than air, at a relative density of 1.5219:1 vs natural gas (methane) at 0.5537:1, which is lighter than air.
5.LPG can be compressed into a liquid and stored or transported in a cylinder or larger vessel.
6.Natural gas and LPG appliances operate at different pressures.
7.LPG can be easily processed into Simulated Natural Gas – SNG – and used as a substitute for natural gas. The same is not true in reverse.
8.Cost--Propane produces over twice the amount of energy than natural gas. So LPG could be more cost effective than natural gas depending upon local prices (which tend to fluctuate).
Whether it is to choose a LNG boiler or a natural gas boiler, it depends mainly on the use of local energy. For more information about that boiler or gas boiler, please consult our online customer service.

Get An Instant Quotation
For all inquiries, please fill in the form below (* are required) to send us a brief message, and we will get back to you as soon as possible.