1,500 kg/hr Diesel or Heavy Oil Steam Boiler
2016-08-18 17:13:08
The steam boiler type WNS is a three-pass shell boiler and fulfills all the requirements in the medium to high output ranges of 1 ton to 20 ton. We supply the 1500kg heavy oil or diesel oil horizontal steam boiler with ASME standards.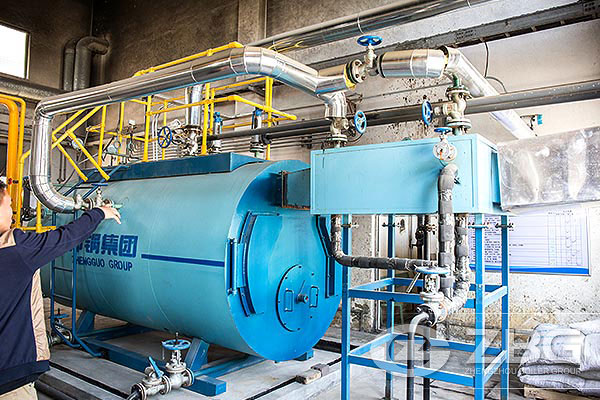 a.Boiler Rated output: 1-20 t/h
b.Boiler Rated steam pressure:1.0-2.5Mpa
c.Boiler Steam temperature:184-450degree
d.Boiler Thermal efficiency:92.2-94.5%
e.Oil consumption:30.5-1221Nm3/h
f.Gas consumption:38-1510Nm3/h
g.Power-hungry power: 2.96-58
h.Apply fuel:light or heavy oil,natural gas or town gas,coke oven gas
i.Use power:380v,50hz.
j.Type of burning :pressure atomization,pressurized combustion
k.Adjustment method:automatic
l.Maximum shipment piece size :From 3.1*1.9*1.9 to 10.8*3.1*3.6
Diesel Oil or Heavy Oil Boiler Application
1.Chemical Industry --polymerization industry ,oil industry, reaction tank,distillation ,enrichment
2. Plastic industry ---plastic and squeeze to finalize the design
3. Textile industry --resin stenters ,dyeing machine and the dry room ,high temperature machine, roller.
4.Rubber industry -rubber vulcanization heating
5.Food industry --cooking dry,vegetable oil refining
6.Wood industry --heating to finalize the design of chipboard sandwich plate , plywood ,polystyrene board, wamu board,fiber heating setting.
7.Paper industry-multi-layer cardboard of packed carton box ,dying and desiccation
8.Others-heating of metal electroplating slot, coating condensation, drying, distillation of pharmaceutical industry, reduction, concentration, dehydration, airconditioning industry.etc
Get An Instant Quotation
For all inquiries, please fill in the form below (* are required) to send us a brief message, and we will get back to you as soon as possible.