10 Ton Coal and Rice Husk Boiler for Paper Steam Line
2016-10-26 16:17:20
Established in 1945, overseventy years boiler manufacturing experience make us the leading boiler manufacturer in China. Our excellent coal and biomass boiler have been exported to many countries, such as India, Indonesia, Pakistan, Congo, Bangladesh, Russia, Thailand, etc. And a paper steam line consulted the 10 ton chain grate boiler that designed to burn coal and rice husk to generate steam for the production.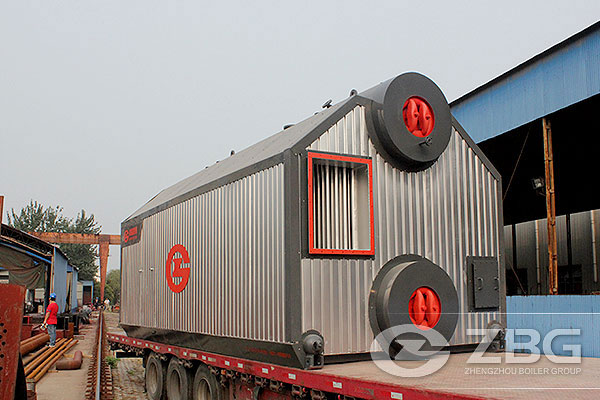 10 ton coal and rice husk steam boiler in paper mill
10 ton coal-rice husk steam boiler in paper steam line is small size, light weight: the volume and weight are just a third of the similar models currently on the market, easy handling and installation; Heating up fast: Compared with the same water heater, the thermal efficiency of 10 tons coal-rice husk steam boiler of ZBG is improved by more than 35%; Save fuel: this kind of 10 tons coal-rice husk fired steam boiler can saving more than 30% fuel when compared with the same water heaters; Long life: aging tests shows that chain grate coal and biomass steam boilers on the market have long life over the same type of product.
Meanwhile, the innovated GEF slag removal technology and the economizer in the real of the chain grate boiler are equipped to achieve energy saving. Second wind feeding structure is applied to innovate the aerodynamic field. The heated particles of the fuel are threw to the front arch, which is propitious to the ignition of the fuel, at the same time, the fuel is kept in the furnace for a longer time, so that the utilization rate of the fuel is improved.
Get An Instant Quotation
For all inquiries, please fill in the form below (* are required) to send us a brief message, and we will get back to you as soon as possible.