Waste Heat Recovery Boiler for Heat and Power Generation
2016-04-18 14:32:07
Industrial facilities release significant amounts of excess heat into the atmosphere in the form of hot exhaust gases or high-pressure steam. A waste heat recovery boiler can re-utilize the flue gas waste heat generated in the industry process as fuel, like the carbon rotary kiln, glass kiln, steel & iron processing, chemical plant, thermal power plant, etc. Waste heat recovery boilers are used in these industries for heat and power generation.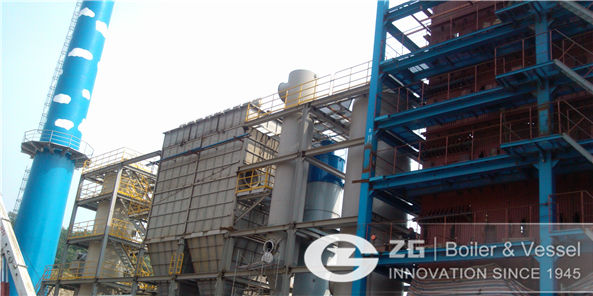 Advantages of waste-heat recovery boiler used in industry
• Reduces energy costs: All recovered waste heat directly replaces purchased energy, thereby reducing energy costs;
• Reduces cost of capital equipment: Reuse of waste heat allows for the use of smaller energy conversion equipment capacity, often resulting in savings in capital expenditures offsetting the cost of the heat recovery system;
• Reduces operating costs: Since waste heat recovery reduces energy costs and often also reduces capital costs, it reduces operating costs;
• Reduces environmental impact: Because all waste-heat recovery directly replaces purchased energy, it also reduces the environmental impact on air and water;
• Reduces GHG emissions: Waste-heat recovery by industry reduces GHG emissions associated with industrial operation;
• May reduce air emission treatment costs: The cost of treatment of air pollutants may be significantly reduced by waste-heat recovery from exhaust gases in those facilities that rely on incinerators to decompose gaseous or vaporous air pollutants;
• May improve product quality: The use of heat pumps for lumber drying typically provides better quality dried lumber and higher yields.
ZG Group is a leading manufacturer and supplier of industrial boilers, providing waste heat power generation boiler, gas oil fired boiler, biomass and coal fired boiler, 1 to 410 ton, no matter low pressure or high pressure boiler, we provide you most suitable solution!
Get An Instant Quotation
For all inquiries, please fill in the form below (* are required) to send us a brief message, and we will get back to you as soon as possible.