Paper Mill 15 TPH CFBC Power Plant Boiler And Its Auxiliaries Project
2022-03-07 08:38:34
This Proposal to be prepared for 1 x 16 + 1x 5 MW for a Captive Cogeneration Power Plant, comprising of 1 x 115 TPH CFBC Boiler and its auxiliaries, 1 x 16 + 1 x 5 MW (Gross) Steam Turbine and its auxiliaries and Balance of plant comprising of Coal handling plant, Ash handling plant, water treatment plant, Cooling tower, compressed air system, Air conditioning, Ventilation system & fire protection system and complete Electrical system suitable for power generation at 11 KV, distribution for Captive requirement at 415 V and evacuation at 132 KV to Grid and complete Plant automation through DCS system. The scope of work exclude the civil works like TG and WTP building and Equipment foundation for the plant. This offer includes the Design basis, Scope Details, terminal points and exclusions.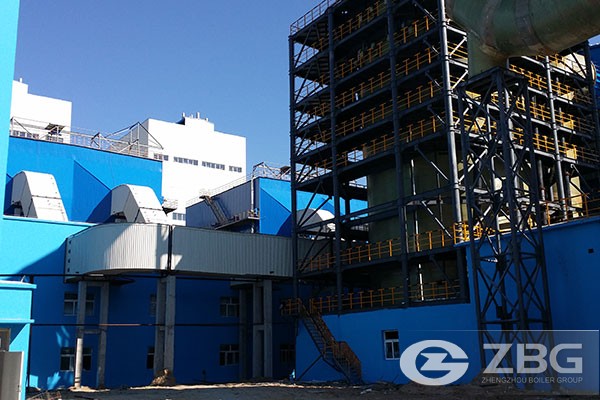 circulating fluidized bed boiler
General Description of Works
The Power Project shall comprise One (1) Unit of Gross Output of 16 MW and One (1) unit of gross output of 5 MW Steam Turbines and One (1) Unit of 115 TPH CFBC Boiler capable of firing:
1. 100% Rice Husk
2. 100% Indian Coal
3. 50% India Coal + 50% Rice Husk
4. 85% India Coal + 15% Pet Coke
5. 90% Rice Husk + 10% Saw Dust
6. 90% Pet coke + Indian coal
The Plant shall be designed for base load operation. However, it shall also be capable to operate continuously in full range of operating conditions with a high availability and high overall thermal efficiency in a cost-effective manner, throughout lifetime operation and maintenance of the plant.
OPERATION MODE:
Load characteristic: The boiler shall be operated in normal load and can regulate peak load, the automatic control equipment can be put into operation above 60% BMCR, the minimum load without oil support is 35% BMCR.
1) Boiler Feed Water Pumps: Two (2) X 100% BMCR motor driven.
2) Feed water regulating: Two (2) X 100% + One (1) X 30% BMCR configuration
3) Bottom ash removal: Bottom ash will be discharged continuously through bed ash cooler.
4) Condensate Extraction Pumps: Two (2) X 100% BMCR motor driven.
5) 1 X Deaerator + Feed water storage tank (20 minutes)
CFBC Boiler
CFBC Boiler
Type
Circulating Fluidized Bed Combustion
Boiler Design Code
ASME / IBR
Pressure part MOC
ASTM (American Society for Testing and Materials) Standards.
BMCR
115 T/h
No. of units
1(one)
Steam Pressure
106bar(a)
Steam Temperature
540+5 Deg.C
Boiler Feed Water temperature at economizer inlet
210 Deg. C
Steam temp. control range for design performance fuel
70 -100
Feed water temperature at deaerator outlet
145 Deg. C
Feed water temperature at economizer inlet
210 Deg. C
Flue gas temperature at Air heater outlet
140 Deg. C: 100% Indian coal
150 Deg. C: 100% Rice husk

150 Deg. C: 85% Indian Coal + 15 % Pet coke

150 Deg. C: 50% Rice husk + 50% Indian coal

150 Deg. C: 90% Rice husk + 10 % saw dust

140 Deg. C: 90%petcoke + 10% Indian Coal
The paper mill 110 ton CFB boiler exported to India can burn both coal and rice husk. For coal fuel is in short supply in India, but biomass resources is rich. We specially designed the boiler co-combustion coal & rice husk circulating fluidized bed steam boiler for our valued Indian client. Our company has won great praise for the boiler's high efficient, energy saving and long term operation in India.
Indian 110 ton CFB boiler main working parameter
Rated evaporating capacity: 110 t/h
Rated steam pressure: 6.5 MPa
Rated steam temperature: 485 ℃
Feed water temperature: 130 ℃
Fume exhaust temperature for boiler: 135 ℃
Blow down ratio: ≤2 %
Design thermal efficiency for boiler: 88.08 %
(Ca/S 2.2)desulphurizing efficiency: ≥85%