List of Materials for Peru 4Ton 1.25Mpa Gas Steam Boiler
2022-12-29 10:39:49
A customer from Peru recently interested in a 4Ton @1.25Mpa Gas fired steam boiler, including water softening system, PLC, pipings, valves , pressure gauges as per the list below.
Required supply list: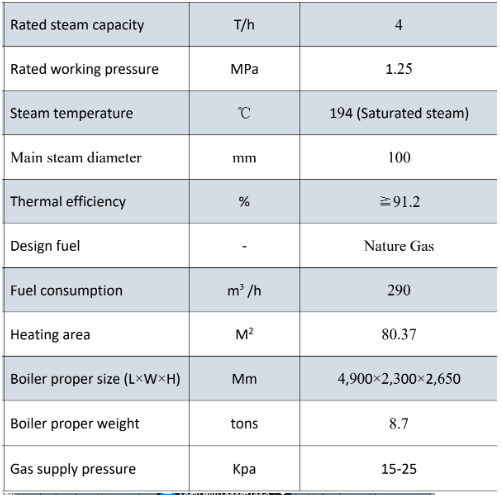 Required supply list
Common 4 ton gas steam boiler model parameters
4-ton gas-fired steam boiler model: WNS4-1.0-Y/Q, WNS4-1.25-Y/Q, WNS4-1.6-Y/Q, SZS4-1.25-YQ, SZS4-1.25/350-Y.Q
Quotation for 4 tons of gas-fired steam boiler: ≥ 220,000 yuan
Rated evaporation capacity: 4t/h
Rated steam pressure: 1.0MPa, 1.25MPa, 1.6MPa
Rated steam temperature: 170°C, 184°C, 194°C, 204°C
Boiler feed water temperature: 20°C
Boiler design thermal efficiency: ≥95%
Combustion method: micro positive pressure chamber combustion
Fuel used: natural gas/light diesel oil/city gas/coke oven gas/methanol
Fuel consumption: natural gas 325N³/h; light diesel oil 267kg/h; city gas 682N³/h; coke oven gas 649N³/h; methanol 586kg/h
Mode:Gas fired boiler
Capacity:4 tons per hour
Application:Biotechnology industry
On 9th Dec, 2016, one set of WNS4-1.25-Y.Q boiler was dispatched from our ZBG factory. This boiler was shipped to a biotechnology factory in Shangqiu, China.
On 16th Nov, 2016, our ZBG company signed sales agreement about one set of WNS4-1.25-Y.Q gas fired steam boiler with this biotechnology company. And Less than one month, our company manufactured and delivered this boiler. WNS4-1.25-Y.Q, this represents the boiler capacity is 4 ton per hour, boiler pressure is 1.25MW, and gas oil fuels. Now, this boiler is under installation. It will produce 4 ton steam per hour in agrochemical production process.
ZBG promises offer each client high quality products, and delivery on time. For further information about our gas oil fired packaged boilers, please contact with our consumer service online.
Get An Instant Quotation
For all inquiries, please fill in the form below (* are required) to send us a brief message, and we will get back to you as soon as possible.