Circulating Fluidized Bed Combustion 75 Ton Straw Fired Boiler
2016-09-06 17:38:51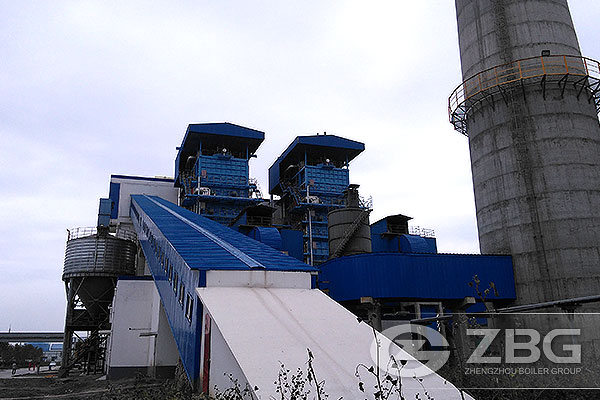 circulating fluidized bed power plant boiler project site
This set of 75t/h biomass fuel circulating fluidized bed combustion boiler is designed to fire the fuel of straw, it also suits the fuel that the straw mix with some other biomass fuel. This boiler adopts fluidized bed combustion technology and high temperature insulation cyclone separator to separate the material.
The 75Ton biomass fired CFB boiler is composed of boiler drum, suspending membrane wall furnace, heat insulation cyclone separator and fuel reverting circuit, and chimney convection heating surface. And the furnace is suspending structure. The drum and cyclone separator are set on the steel crossgirder, and the low temperature superheater and the economizer tubes are supported by the spandrel girder through the pipe clamp, while the spandrel girder is on the tail part of the cage, and the tubular air-preheater is supported on the steel girder. The whole furnace bulge to the downward. There is a flexible expansion joint among the furnace membrane wall exit and the inlet of cyclone separator and the leg of fuel reverter. To meet the anti-corrosion requirement of the super-heater when firing the biomass fuel, the super-heater with anti-corrosion alloy refractory steel adopts fin-type superheater to hang on the furnace.
We are one of the prominent manufacturer, exporter, and supplier of CFB Boiler, Gas & Oil Fired Boiler, Coal Fired Boiler, Biomass Fired Boiler, Waste Heat Boiler, etc. Our products are developed and designed as per the international quality and norms. They are used in various industrial applications in the sectors like Food Industry, Laundries, Chemical Process, Textile Industries, Oil Refineries, etc.
Get An Instant Quotation
For all inquiries, please fill in the form below (* are required) to send us a brief message, and we will get back to you as soon as possible.