Bi-drum Packaged Gas & Oil Fired Boiler
2016-08-12 17:33:02
The SZS is a typical D-type water tube boiler design, Bi-drum packaged gas & oil fired boiler. It is mainly composed by upper-drum (steam drum ) & lower-drum(water drum), membrane water cooling wall, convection bank, economizer, and condenser. Burner is arranged in the front wall, after fuel combustion in the furnace, flue gases flow through convection bank, economizer, condenser, and finally discharge into the chimney.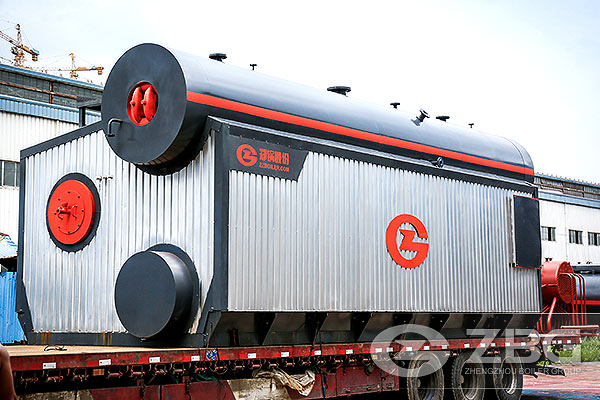 Compared to fire tube gas & oil fired boiler, the water tube gas & oil fired boiler is more cost-effective (when its capacity is over 15 ton/hr). Actually, it is known that a water tube boiler is much safer just because of its water-tube structure. And the D type water tube boiler has larger capacity range and higher temperature & pressure to meet more applications.
D-type fully automatic oil & gas fired boiler is an advanced high-tech complete boiler system which includes auxiliaries, such as instruments, burner , heat exchanger and control. The boiler has a D-type layout, double drums and a longitudinal layout. It has a water-tube structure and can be provided as a package boiler or a shop-assembled boiler, depending on the desired capacity.
The boilers are equipped with fully-automatic burners of renowned international brands safeguarding low emission combustion. The operation mode under micro-positive pressure results in higher combustion efficiency and lower power consumption, thus reducing operating costs. The full membrane wall structure ensures adequate combustion temperatures inside the furnace and low heat loss in combination with good sealing characteristics and high thermal efficiency. A highly-efficient stand alone economizer is installed at the rear end of the boiler to lower the flue gas temperature and improve the boiler thermal efficiency.
Get An Instant Quotation
For all inquiries, please fill in the form below (* are required) to send us a brief message, and we will get back to you as soon as possible.