Sunflower Husk Pellets Fired Boiler
2016-11-29 09:49:44
Sunflower seed husks, with a high calorific value, can also be formed into pellets for use as a biomass fuel, burnt directly in boiler chamber. Large amounts of sunflower husks are produced in South Russia and in Ukraine. Thus, clients near sunflower oil factories, can consider purchase sunflower husk pellets fired boiler for your benefits. The reasons are as following: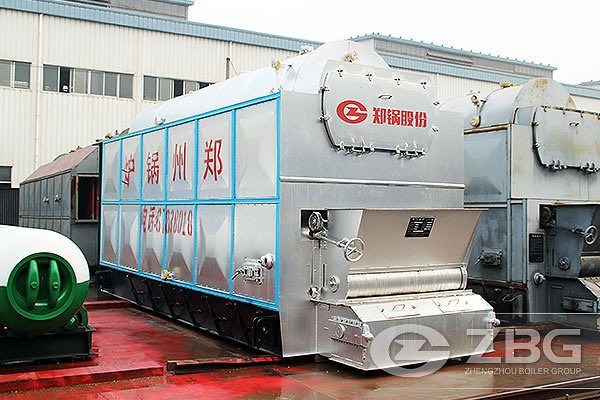 DZL series Biomass Pellet Fired Boiler
Firstly, save boiler fuels cost. Sunflower husks as a by-product of sunflower oil extraction process and can be easily found in large quantities in sunflower oil factories. You can save fuels shipping costs, and get lower fuel price than markets.
Secondly, sunflower husk fired boiler has high work efficiency. Thermal efficiency of biomass boiler in our ZBG can reach to 85%. Installing imported burner, it can lower nitrogen oxide emission.
Oil, gas and coal fuels are commonly used for heating. Substantial amounts of agricultural biomass can lower economic costs and ease environment pressure. The following table shows the reported properties of sunflower husk as biomass fuel over a variety of agricultural biomass fuels.

| | | | | |
| --- | --- | --- | --- | --- |
| Property | Sunflower hulls | Wheat middlings | Soybean hulls | Corn shells |
| Moisture(%) | 8.65 | 12.58 | 11.38 | 13.43 |
| BTU/Ib | 8474 | 7228 | 6660 | 6924 |
| Ash(%) | 2.86 | 5.18 | 4.17 | 1.13 |
| Sulfur(%) | 0.14 | 0.15 | 0.07 | 0.11 |
A low ash content is required for a heating fuel. Ash produced by burning fuel may result in fouling of equipment and air pollution. Thus, sunflower hulls is suitable for industrial boilers, as a kind of biomass fuel.
We have 24/7 consumer service online system. Any question about our product is welcomed.
Get An Instant Quotation
For all inquiries, please fill in the form below (* are required) to send us a brief message, and we will get back to you as soon as possible.