75 Tph CFB Boiler for Integrated Sugar and Bioethanol Manufacturing Company
2023-01-03 08:36:40
The zbg team recently received a letter from a Filipino customer who wanted to purchase a 75 tph CFB boiler. Boilers for integrated sugar and bioethanol manufacturing. Here are the detailed technical parameters of the 75-ton circulating fluidized bed boiler.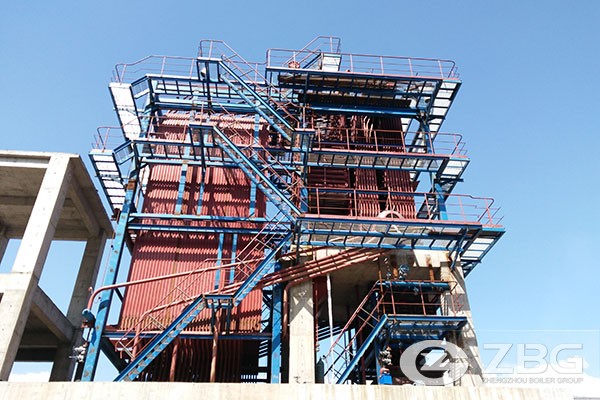 Specifications of 75 Tph CFB Boiler
| | |
| --- | --- |
| Technical Data | |
| Capacity (TPH) | 75 |
| P (psi) | 972 |
| T (⁰C) | 480 |
| Feed water T | 105 |
| Exhaust Flue Gas T | 150 |
| Boiler Eff | 86.20% |
| Primary Air | 137 |
| Secondary Air | 116 |
| Blowdown Rate | 5% |
| Air to Flue Gas | 1.35 |
| Fuel Req | 10.3 |
| Pressure requirements for production line: | |
| 205kpa with steam requirements of around (TPH) | 70 |
| 1136kpa with steam requirements of around (TPH) | 4 |
| Existing Steam Turbine Data: | |
| Steam Pressure Inlet (psig) | 850-950 |
| Capacity (MW) | 7. |
Mode:CFB boiler
Capacity:75 tons per hour
Application:Power generation
The 75 tons energy-saving circulating fluidized bed boiler is one of the advantages of ZBG's patented polymerization products, which is known as "inhibition of pollutant generation". The patented boiler not only has the general characteristics of CFB boilers, but also conforms to the environmental protection policy of energy saving and emission reduction. The emission of air pollutants, such as soot, sulfur dioxide and nitrogen oxides, is very low. The low emission of this kind of equipment is realized through innovative design of the body, and it is not completely dependent on desulfurization and denitrification equipment.
There are many projects with the same types of chemical CFB boiler, and the Inner Mongolia project has just passed the environmental protection, energy efficiency test, with 91.86% thermal efficiency, 139.01mg / m3 of NOx initial emission concentration that leading industry CFB products.
For 72 years, ZBG have customized millions of aggregate production solutions and equipment for customers all over the world. This benefits from our excellent quality and the full life cycle service we offer from pre-sale consultation, solution design, equipment manufacture, erection instruction, spare parts supply to the production line operation. ZBG has become a trustable brand for the customers in the aggregate industry.
Get An Instant Quotation
For all inquiries, please fill in the form below (* are required) to send us a brief message, and we will get back to you as soon as possible.