6 T/h Steam Boiler Firing Palm Oil Fiber Biomass Malaysia
2016-07-15 17:29:35
Malaysia is the world's largest producer and exporter of the oil palm, accounting for approximately 60% of the world's oil and fat production. The oil palm industry in Malaysia, with its 6 million hectares of plantation, produced over 11.9 million tons of oil and 100 million tons of biomass. Usually a palm oil plant will utilize the palm oil fiber as biomass boiler fuel, to lower its fuel cost. One set of 6 t/h steam boiler firing palm oil fiber biomass in Malaysia can provide high quality industry steam.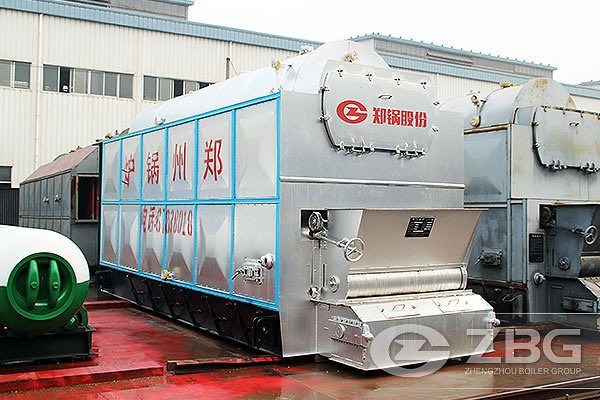 6 t/h palm oil fiber biomass steam boiler
Oil palm industries generates massive quantities of oil palm biomass such as oil palm trunk (OPT), oil palm frond (OPF) and oil palm empty fruit bunch (EFB). The OPF and OPT generated from oil palm plantation while the oil palm EFB from oil palm processing. In Malaysia, oil palm EFB is one of the biomass materials, which is a by-product from the palm oil industry. EFB are left behind after the fruit of the oil palm harvested for the oil refining process. EFB amounting to 12.4 million tonnes/year (fresh weight) are regularly discharged from palm oil refineries. Palm oil fibers are quite rich in Malaysia used as biomass boiler fuel. 6t/h biomass fuel boiler also can be used in Malaysia textile industry, paper plant, chemical industry, rice mill, power plant, etc.
It is obvious Malaysia has a potential biomass fuel boiler market, for it owning rich biomass resources, like the rice husk, palm oil fiber, bagasse, wood fuel, etc. Now as the technology developing, biomass fired boiler will take a wider and wider market share in the world.
Get An Instant Quotation
For all inquiries, please fill in the form below (* are required) to send us a brief message, and we will get back to you as soon as possible.